"Firefly" by Kim Lozano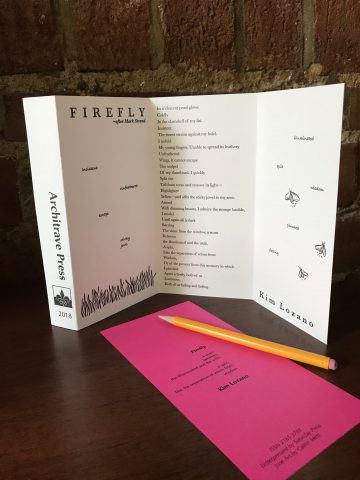 The Poet
Kim Lozano teaches creative writing for the St. Louis Writers Workshop and St. Louis Oasis, a lifelong learning organization for people over 50. Her essays, poetry, and short fiction have been published or are forthcoming in Poetry Daily, The Iowa Review, Alaska Quarterly Review, American Life in Poetry, Denver Quarterly, North American Review, and elsewhere.
The Poem
Firefly
~after Mark Strand
Its iridescent pearl glows
Coldly
In the clamshell of my fist.
Insistent
The insect strains against my hold.
I unfold
My young fingers. Unable to spread its leathery
Unfeathered
Wings, it cannot escape
The scalpel
Of my thumbnail. I quickly
Split the
Tail from torso and remove its light—
Highlighter
Yellow—and affix the sticky jewel to my arm.
Armed
With dimming beauty, I admire the strange bauble,
I model
Until again all is dark
Barring
The shine from the window, a seam
Between
the illuminated and the unlit,
A split,
Like the separation of whim from
Wisdom,
Or of the present from this memory in which
I pinched
Apart a firefly, both of us
Luminous,
Both of us fading and fading.
The Design
Poem letterpress printed by hand on 100lb archival card stock measuring 12.5″ x 7.5″ with 3 folds & packaged in an individual sleeve. Numbered edition of 50 copies.