"After Reckless Abandon" by Heather Lang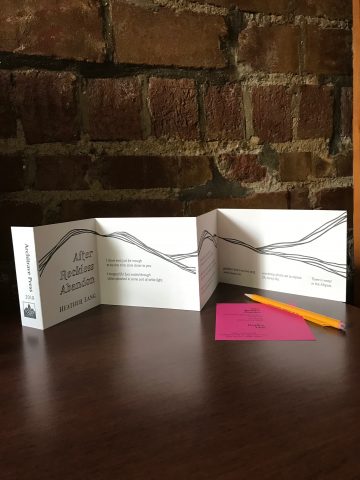 The Poet
Heather Lang is the online managing editor for The Literary Review, co-editor of Petite Hound Press, and an adjunct professor. She is a graduate of Fairleigh Dickinson University's low-residency MFA in Creative Writing program, and her chapbook manuscript, Common Prayers, was named a semifinalist in the 2014 Tupelo Press Snowbound Chapbook Award competition. Her poetry has been nominated for a Pushcart Prize and has been published by or is forthcoming in december, Jelly Bucket, Mead, Watershed Review, and others, and she has reviewed for Atticus Review and HTMLGIANT, among others.
The Poem
After Reckless Abandon
I drove east just far enough
to be one time zone closer to you.
I stopped for fuel, waded through
aisles splashed in some sort of white light.
I pawed at cans of Campbell's soup,
a water gun, a box of Tylenol, and a superhero
Kleenex box. I am today's postmodern desert outlaw.
That is what it takes, a strange vying that I would never
wish on anyone. I'm silently drowning one moment
at a time, and it's always to that same
goddamn that's-not-love song
which leaves me
wondering what's set to repeat.
Oh, honey. Yes.
There is water
in the Mojave.
The Design
Poem letterpress printed by hand on 100lb archival card stock measuring 22.5″ x 4.5″ with 4 folds & packaged in an individual sleeve. Numbered edition of 50 copies.