[You can hear wind echo] by Z.G. Tomaszewski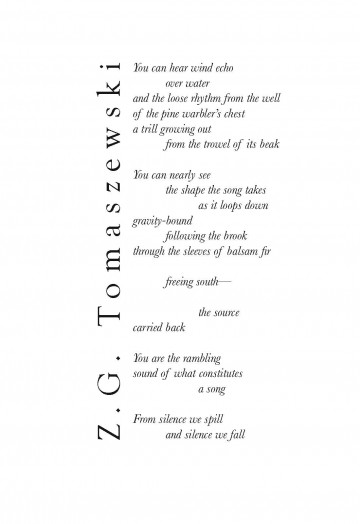 The Poet
Born in 1989 and currently living in Grand Rapids, Michigan, Z.G. Tomaszewski is a poet, rambler, maintenance man, and musician as well as a founding producer of Lamp Light Musical Festival and co-founder of Great Lakes Commonwealth of Letters. His book, All Things Dusk, selected by Li-Young Lee as the 2014 International Poetry Prize winner, is forthcoming from HKU Press.
The Poem
To really hear "wind echo/ over water" the listener must be silent, both outwardly and inwardly. There's no room for inner monologues about what to make for dinner or if there's time to mow the lawn. There's no room for the distractions that arrive by smartphone, either. At least, not if you want to get to the heart of "the shape the song takes;" not if you want to find your own "rambling/ sound." Handily, the poet has created a mantra reminding his reader that to really see a song's shape, you've got to stand outside it, in the surrounding silence.
The Design
Ripples of moving water are present in the windy squiggles of Baskerville's italic; its regularity is the visual equivalent of the soothing, white noise of a brook. All that movement requires an anchor, though—something to keep the page from spiraling into a whirlpool. The poet's name is arranged along the left margin like a lip of rock at the top of a waterfall. Goudy Old Style is solid without being opaque, and spread out to admit additional white space so that it manages the transition from clear stream to white water.