"when youre with him" by Victoria Isabella Walls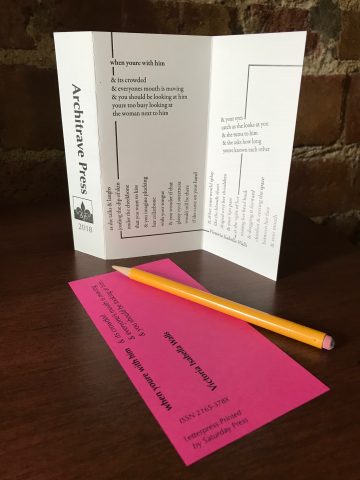 The Poet
Victoria Walls, a Tennessee native, is an alumna of Saint Louis University and The University of Missouri at St. Louis. During her MFA, she held multiple artistic leadership positions such as poet laureate and president of the Graduate Writers Association. She is now a professor of English as a Second Language at Saint Louis University and an assistant editor for Boulevard Magazine and WomenArts Quarterly. Her poems are featured in Slippery Elm and december magazine. She can also be found in "Voices at the Corner," a blog for The Center for Social Empowerment where she served as Poet in Residence.
The Poem
when youre with him
& its crowded
& everyones mouth is moving
& you should be looking at him
youre too busy looking at
the woman next to him
as she talks & laughs
jostling the dip of skin
under the cheekbone
that you want to kiss
& you imagine plucking
her collarbone
with your tongue
& you wonder if that
glassy eyed sweetness
would still be there
if she came on your hand
& if her arms would splay
like the blonde sheet
draped over her shoulders
& your lips part
at the sight of her
tossing her head back
& dragging it forward
chinfirst & cutting the space
between her face
& your mouth
& your eyes
catch as she looks at you
& she turns to him
& she asks how long
youve known each other
The Design
Poem letterpress printed by hand on 100lb archival card stock measuring 7″ x 6″ with 2 folds & packaged in an individual sleeve. Numbered edition of 50 copies.