"Uptairs Bread" by Emily Wall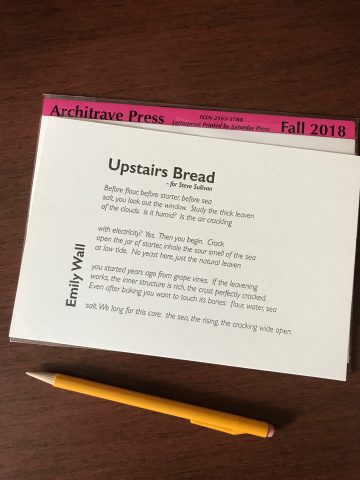 The Poet
Emily Wall is an assistant professor of creative writing at the University of Alaska Southeast. She has been published in a variety of literary journals in the U.S. and Canada. Her first book, Freshly Rooted, was published in 2007 by the Irish press Salmon Poetry. She lives in Douglas, Alaska.
The Poem
Upstairs Bread
– for Steve Sullivan
Before flour, before starter, before sea
salt, you look out the window. Study the thick leaven
of the clouds: is it humid? Is the air crackling
with electricity? Yes. Then you begin. Crack
open the jar of starter, inhale the sour smell of the sea
at low tide. No yeast here, just the natural leaven
you started years ago from grape vines. If the leavening
works, the inner structure is rich, the crust perfectly cracked.
Even after baking you want to touch its bones: flour, water, sea
salt. We long for this core: the sea, the rising, the cracking wide open.
The Design
Poem letterpress printed by hand on 100lb archival card stock measuring 5.5″ x 8″ (flat) & packaged in an individual sleeve. Numbered edition of 50 copies.