"Honeymoon" by Michelle Bonczek Evory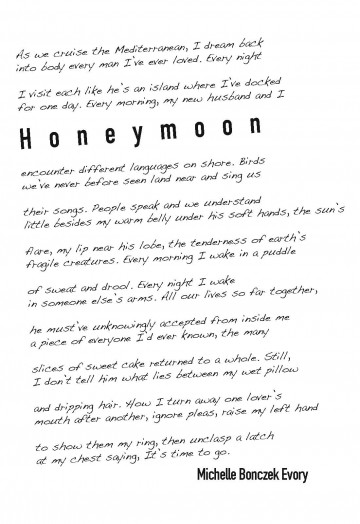 The Poet
Michelle Bonczek Evory is the author of The Art of the Nipple (Orange Monkey Publishing, 2013) and the forthcoming Open SUNY Textbook Naming the Unnamable: An Approach to Poetry for New Generations. Her poetry is featured in the 2013 Best New Poets Anthology, is the recipient of the Jane Kenyon Award, the Sherwin W Howard Award, and the Consequence Prize, and has been published in over seventy journals and magazines, including Crazyhorse, cream city review, Green Mountains Review, Orion Magazine, and The Progressive. She holds a PhD from Western Michigan University, an MFA from Eastern Washington University, and an MA from SUNY Brockport. This past summer she and her husband, poet Rob Evory, were the inaugural Artists in Residence at Gettysburg National Military Park. She teaches literature at Western Michigan University and mentors poets at The Poet's Billow (www.thepoetsbillow.com).
The Poem
We think of marriage as a new beginning, and certainly, it is. What's often lost in all the fanfare, though, is that beginnings require endings; a marriage is as much the end of a way of living as it is a start. We mark that start with the rituals of a wedding and a honeymoon, but there is no term for the shadow ritual of letting go. So the poet creates one for us. In Michelle Bonczek Evory's hands the ritual is both surreal as all of the speaker's former loves return, "the many/ slices of sweet cake returned to a whole," and sad as she expels them, one by one, from her heart. Reading it is bittersweet and final, like attending the wedding of a former love.
The Design
"I don't tell him," the speaker says, her confession kept secret from her new husband, something scratched hastily in an attempt to expunge it from her mind. A handwriting typeface is therefore in order, but they're tricky: the more emotional they become the more difficult they are to read. Dakota strikes a balance between the two extremes, and keeps the speaker's last statement clear: "It's time to go." It also makes for a diffuse block of text which needs an anchor. DIN's thick, even, sans serif strokes are as much pure line as they are letterform. The title is arranged as a band across the body of the poem, and like a wedding ring, it both announces and constrains.