"Crossing the Red Sea" by Edward Dougherty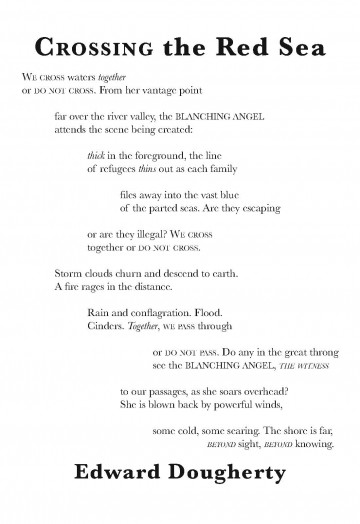 The Poet
Edward A. Dougherty is the author of 5 chapbooks, the latest of which is Backyard Passages (FootHills Publishing), as well as of the books Pilgrimage to a Gingko Tree (WordTech) and Part Darkness, Part Breath (Plain View Press). After finishing his MFA in Creative Writing in Bowling Green, Ohio, Dougherty was poetry editor of the Mid-American Review. Then he and his spouse traveled to Hiroshima to be volunteer directors of the World Friendship Center where they served for two and a half years, witnessing the fiftieth anniversaries of the atomic bombings of Hiroshima and Nagasaki. They now live and work in Corning, New York.
The Poem
The Red Sea. An angel. This poem begins telling a familiar Old Testament story and then swerves into unexpected territory: "Are they escaping/ or are they illegal?" In an instant the poet has expanded the scene to include a second, similar landscape (the Rio Grande and surrounding desert) through which another group of refugees makes its way toward something "Beyond sight, beyond knowing." It's really just that word "illegal"—a very specific term in twenty-first century America—that creates the parallel to Mexican immigrants and the poem's surprise. A comparison of the two Exoduses reveals us to ourselves—the true work of poetry—by pointing out how much a reviled, contemporary group has in common with a revered people from antiquity. We call what the Israelites did "escape" so that the illegal nature of their actions can be overlooked. Why then can't we see the very human desire to escape in people we prefer to label "illegal"?
The Design
Like the blanching angel, we who read this poem are witnesses, so the design needed to mimic the scene. White space where the water has formed the sides of a valley, text staggered across and along the page where the seabed is exposed, as if the letters were written by feet slogging through the mud. The choice of Baskerville was as much for the exuberant flourishes in the italic as for the variety of available styles. Small caps and italics draw attention to the repeating elements of the poem, stressing the urgency of this risky, collective action.