"At the old house where I first learned" by Rachel Hoge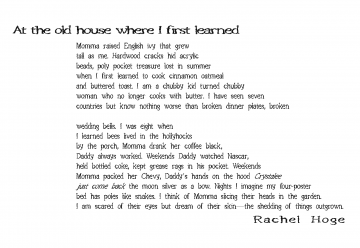 The Poet
Rachel Hoge is a Tennessee native who loves sweet tea and her family garden. She's a first year MFA student at the University of Central Arkansas, an intern at the Oxford American, a ghostwriter upon occasion, and a strong believer in the pseudonym. You can find her forthcoming work in the 2016 edition of Pembroke Magazine.
The Poem
We tend to think of change as a gradual force and sometimes it is. When growing up we learn to cook, learn that "Momma [takes] her coffee black." Each year we need slightly larger clothes. More often, though, the changes that really mark us are the cataclysmic ones. They leave deep, existential marks because we've lost something. "Momma packed her Chevy, Daddy's hands on the hood Crystalee/ just come back…" We don't know which parent the young speaker lost —did Momma take the young speaker with her when she left?—but we do know the adult speaker dreams of her mother in the garden, slicing off the heads of snakes—she's a refigured Eve who won't be the dupe of any serpent. Count a limited idea of womanhood among the "things outgrown."
The Design
It's unusual that a single typeface feels right for a whole Architrave broadside. Those four-poster snakes, though, their skin shedding and their heads split open… their wriggle-and-shift permeates all readings after the first. In larger point sizes, Lights Out BRK looks like the tracks those snakes would leave in loose dirt; in smaller point sizes the letterforms resemble the snakes themselves in the process of molting. The overall effect is a block of text that appears to writhe.