"The Birds" by Ellene Glenn Moore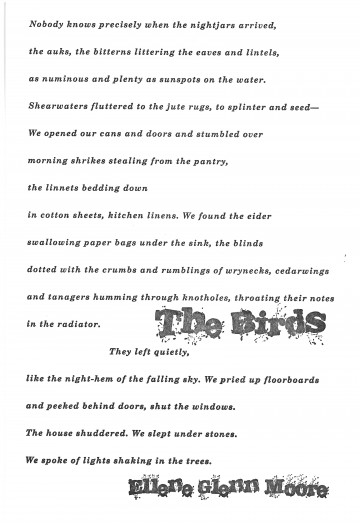 The Poet
Ellene Glenn Moore is a poet and MFA candidate at Florida International University, where she holds a John S. and James L. Knight Foundation Fellowship. She earned her undergraduate degree in Creative Writing from Carnegie Mellon University. During a brief stint in Cleveland, Ohio, Ellene led two introductory poetry workshops at Grafton Correctional Institution, in conjunction with the Northeast Ohio Community Outreach Project. Her work has appeared in Barn Owl Review, Dressing Room Poetry Journal, and other print and online journals.
The Poem
The birds of this poem are invasive, destructive, an unexplainable event, and almost none of them are described as singing. Instead, the poet embeds their song in her language. Each line has patterns of vowels or consonants, which become layered as the poem progresses. The repeated n sounds of the opening line prime the reader's ear for "numinous and plenty as sunspots" two lines later. In the second line "littering the eaves and lintels" sends out a call of l's that are answered in line four with "fluttered… to splinter" and so on until the whole poem is resounding with call and response. The finale is provided by the three deep o sounds, like breath across a large pipe, in "humming through knotholes, throating their notes/ in the radiator." It's loud without ever saying so. When the music continues after the birds have departed, it feels like a ringing in the ears in the sudden silence. The house shudders. The couple is stunned. They sleep under stones and murmur to each other about what might still be in the trees. It's possible they might never recover.
The Design
There is so much movement in this poem. The text needed to reflect both the erratic energy of the individual birds and their tidal, flock-like arrival and departure. A smooth italic with strong vertical strokes like Century Schoolbook reflects that movement but also gives it a visual weight consistent with the poem's ominous tone. For contrast, Manfred Klein's Stampede is perfectly messy, as if the letters have been trampled and shat on, disrupted from their regular alignment. The title is stuffed into the poem's middle like a bird that has squirmed its way into the space between the refrigerator and the wall.