"On Keeping" by Ryan Smith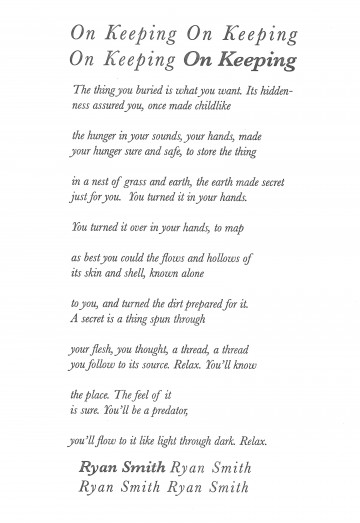 The Poet
Ryan Smith is an MFA candidate in poetry at the University of Missouri – St. Louis, where he has tutored undergrads in writing. He has twice won the UMSL Graduate Prize in Poetry, and he is an assistant editor for the journals Natural Bridge and WomenArts Quarterly. For his proofreading services to the Kentucky State House of Representatives, he has been commissioned as a Kentucky Colonel.
The Poem
A poem about keeping something – a buried, secret something – is really a poem about the fear of loss. This poem takes a step back, though, and starts with the original, even more basic fear that motivates keeping: that of hunger. We're caught, as Smith's speaker well knows, in a world where assuaging one fear creates another. But he also offers us "a thread, a thread/ you follow to its source." It's not named as such until late in the poem, but it's there from the beginning in the strings of repeated words. Initially those repetitions convey anxiety, but as they pile up they take on the rhythm of a mantra. It will all be alright, the speaker tells himself. "Relax… Relax."
The Design
This poem has such restless energy; it leans forward like a squirrel looking around for the perfect place to bury a nut. An italic typeface would echo that stance, but which one? Unlike some of its contemporaries whose italic versions are slightly irregular in their slant from letter to letter, all Baskerville's letterforms lean together as one, pursuing the end of their line. The title and poet's name needed to be similarly restless, obsessive, but not a blur; a touch of bold for one iteration anchors the eye within the field.