"Eternal Flame" by Bruce McRae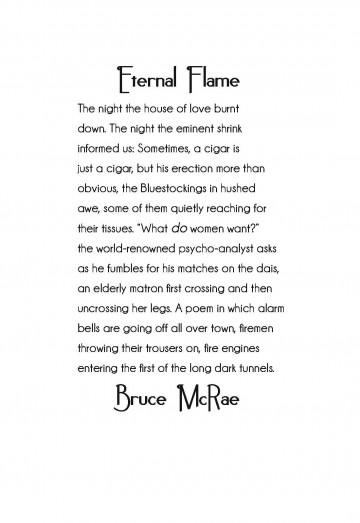 The Poet
Pushcart-nominee Bruce McRae is a Canadian musician with over 800 publications, including Poetry.com and The North American Review. His first book, The So-Called Sonnets is available from the Silenced Press website or via Amazon books. To hear his music and view more poems visit his website: www.bpmcrae.com, or 'TheBruceMcRaeChannel' on YouTube.
The Poem
Every allusion used here is a cliché (the cigar, the Bluestockings, tunnels, etc.) and yet we still smile, happy to be 'in on it'. It's as if the poet has just nudged us while delivering an exaggerated wink. And while we might cringe to actually be so nudged, and as much as we might hate to admit it, in truth sex is everywhere in our daily public lives. We don't talk about it as much as we should, even though "bells are going off all over town." Or more precisely, we talk about it but don't really change. We've only just entered "the FIRST of the long dark tunnels."
The Design
The typefaces needed to be a bridge between the Victorian and the modern, something sans serif but still with a self-conscious curve. Champagne & Limousines provides the curves, the o's and a's and even the bowls of the lower case g's all resemble the mouth of the long dark tunnel at the poem's end. Noir-et-Blanc curves, too, but with a little excess of ornament on the capitals. The kind of flourish a Bluestocking might pencil onto the world-renowned psycho-analyst's name in her program.