Dossier 1: Futura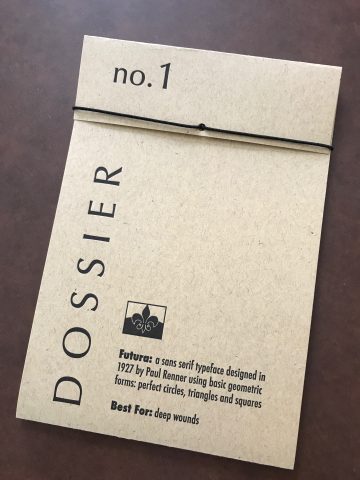 The Poet
Kella Hanna-Wayne
Claudia Torres
Preston Craig
Eric Prim
Gillian Nevers
Jen Ferguson
The Poem
"How Could She Stay"
"Kindling"
"Green Lake, Michigan"
"Painting"
"Mapping"
"Father's Day Snapshot"
The Design
Dossier 1: Futura collects all poems whose body is set in Futura: a sans serif typeface designed in 1927 by Paul Renner using basic geometric forms: perfect circles, triangles and squares.
Best for: Deep wounds
Spiral bound chapbook compilation of previously published Architrave poems. All poems and the cover are letterpress printed by hand on archival cardstock in a limited edition run. Liner notes for each poem are also included.