"Doll" by Erica Minton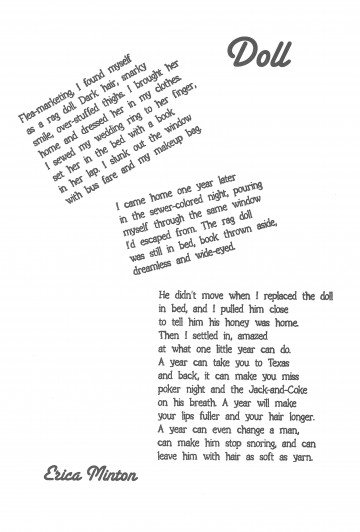 The Poet
Erica Minton lives, works and loves in Cincinnati, Ohio. She can be reached at ericaminton -at – gmail.com.
The Poem
In poetry, what's left out matters just as much as what's included, and this poem is a great example. Minton's speaker doesn't bother to give her reasons for leaving or how she spent the year away; it's possible she doesn't have any, but even if she did, they're irrelevant. What really matters is how easily the speaker abandons her relationship. There's no plan, just a random thrift store find and then she casts off, leaving someone else's cast off doll in her place. It happens just as easily in life. One day you wake up and realize you've been going through the motions. Hopefully you've come back in time, before your partner's hair has turned to yarn.
The Design
A poem about subterfuge needs a typeface that's a little fuzzy, inexact, without looking handwritten. In other words: a facsimile. Fortunately the resurgence of letterpress has spawned a parallel interest in new typefaces that replicate the quirks and imperfections of antiquated type. Lights Out is one such new face that strikes the right balance for this poem. It's very regular, but the edges of the letterforms have been nicked away, leaving the body of the poem looking a little disheveled. And like an old rag doll, the stanzas are arranged on the page in a bit of a slouch. Sante Fe is a complete departure from Lights Out, just like the real woman speaking this poem is no doll.